Product Description
2019 New Arrival Easy Moving Magnetic Flipchart easel
#FC-888 Description:
-Materials: Lacquered steel+steel tube
-Magnetic surface.
-Easy to write on and easy to wipe off.
-Adjustable in height.
-Lockable castors.
-Can be written on the board or on the flipchart pad which can be included.
-Can be additionally equipped with two extension bars for hanging paper to present more information.
-Accessories:1 pad clamp,2 pad hooks,1 marker tray,1 magnetic eraser,3 magnets

Mobile Round Based Whiteboard

MOVABLE & STABLE: Magnetic flipchart whiteboard is equipped with 5 universal wheels and rounded base for easy to move. And the reinforced base keeps the white board stable firmly. And there are casters with locking brakes, wheels can be locked. Keep it safe for kids or students. The whiteboard surface is magnetic, so paper or photos can be attached to with magnets.24''x36'' Flipchart Round Based
HEIGHT ADJUSTABLE: Dry Erase Flipchart Easel Stand.The height can be adjusted from 63~78.5 inches, so you can always get a comfortable position. Mobile whiteboard is equipped with flipchart hooks, elastic clip and marker tray, you can hang presentation materials or paper pad(recommend 34.25"x22.24") on its flip chart hook or paper clip and place dry erase markers on the marker tray, no messy on the floor.Magnetic Mobile Board 40x28 Inches

MULTIPLE USES:

Whiteboard with wheels delivers effective performance for daily, weekly and monthly to do list. It is suitable for home, fridge, office, cubicle, desk, class, school, college, dorm room, kitchen, locker room, game sport room or any other place. This perfect size white board has great help for managers, teachers, students and kids. Perfect for presentation, education or darts score counting. Also, the magnetic white board can be used as a DIY decoration for home, office, class.Mobile Round Based Whiteboard.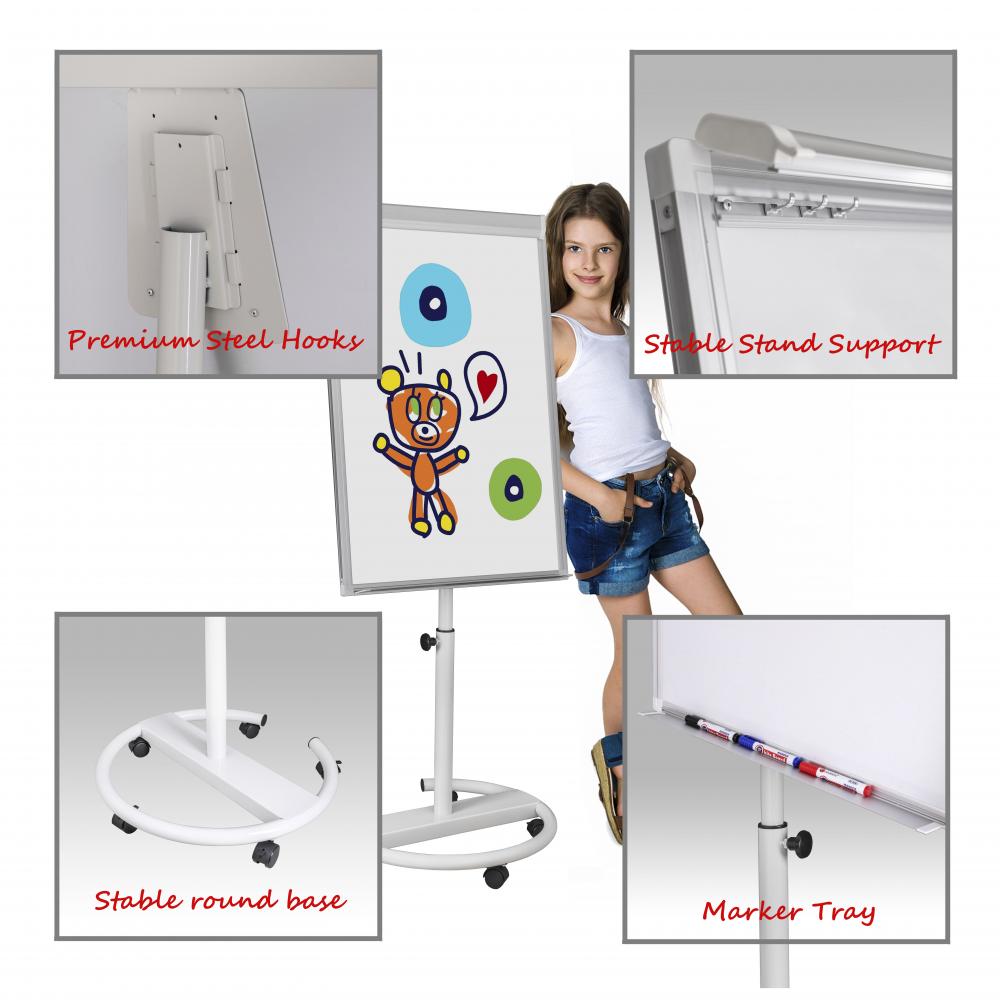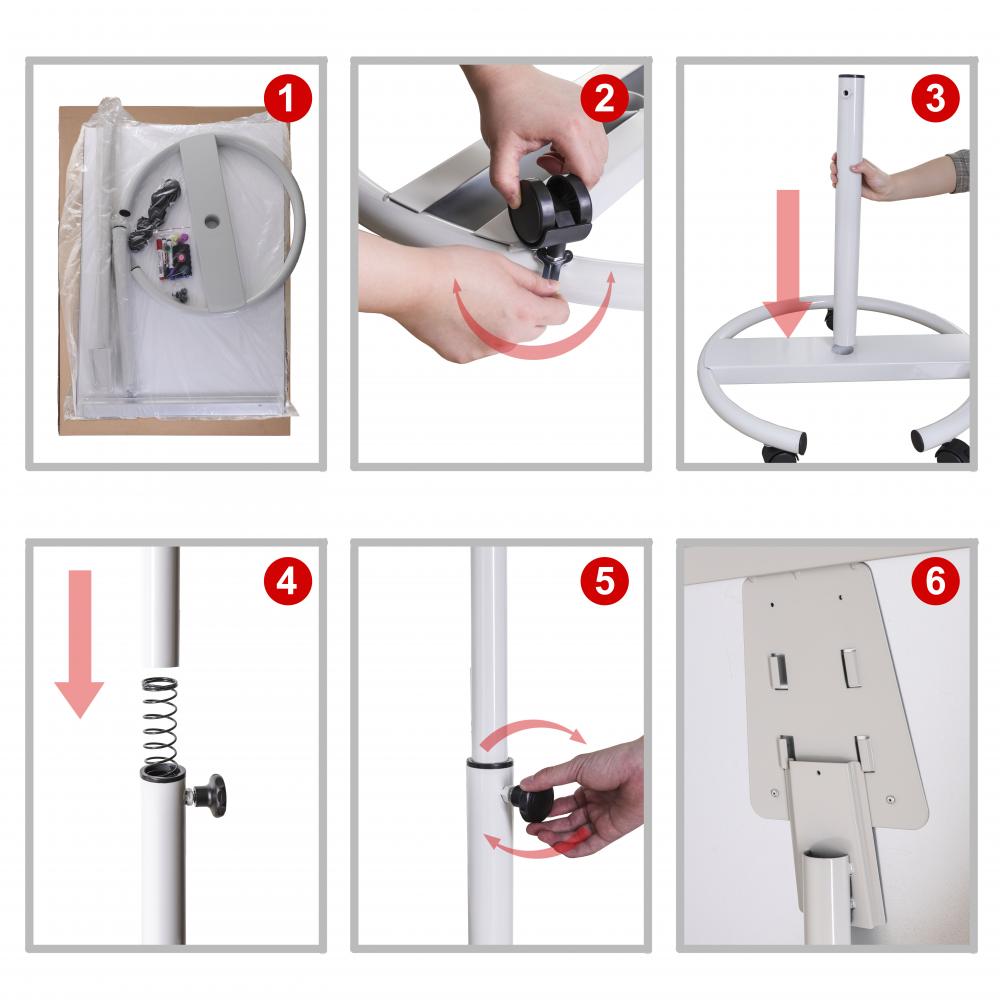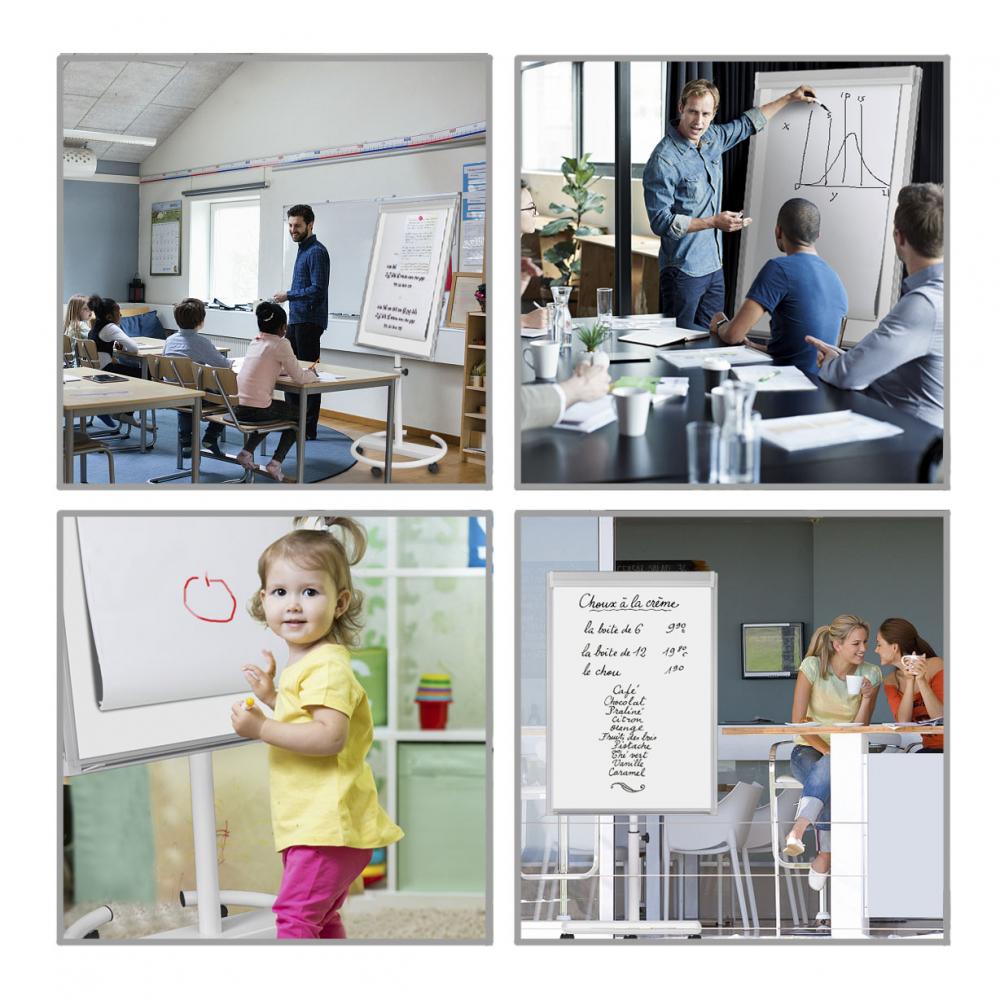 1. Please remove clear the protecting film from the writing surface before use(Use a knife and cut along the aboard frame. Tear film a little from the board corner and then take off the film step by step)
2. Please use good quality whiteboard markers(water-based).Permanent markers(oil-based) are forbidden.
3. Whiteboard cleaner would be more helpful to wipe off if ink stays too long.
4. Boards must be put in a VERTICAL way instead of HORIZONTALLY.
5. Boards are fragile and not so good for courier delivery. Please handle with care in transit.